How to Play 8-Game Poker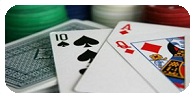 Never heard of it – 8 Game that is?  Well you probably haven't just yet because it's relatively new to the online poker world, and even crazier is that it's only available to play on ONE poker site at the moment.  Other sites have similar versions of it, like the 7-Game variation that Full Tilt offers at the moment, but 8-Game is more popular even at live ring game tables.
It's picking up steam on PokerStars (where else, right?), and everybody has seem to jump on the craze – and as a fellow minion of Gambling666, I'm hoping you might give it a chance too!  It's also not a tough game to master, especially if you have a decent competency in all types of games such as Holdem, Omaha, Stud and other variations of those games and beyond.
As the Devil himself, it's sort of my job to make sure you're informed of the most up and coming games in the gambling world….so without further delay, let's get you caught up on 8 Game Poker and how it all works.  And if you're looking to touch up on all the different types of games this particular game involves just check out our list of poker games and get caught up for yourself.
Use PokerStars Marketing Code < at Sign-Up for your $600 Bonus
8-Game Poker Rules
8-Game Poker is another one of those fancy mixed games. It's a bunch of different kinds of poker, all rolled into one. 8 types, in fact. Hence the name: 8-Game Poker.
It's really pretty simple: 6 players max, 8 variations of poker, 6 hands of each per round. The games included are:
• Limit 2-7 Draw
• Limit Holdem
• Limit Omaha 8 (Hi/Lo)
• Razz
• Limit 7 Card Stud
• Limit 7 Card Stud 8 (Hi/Lo)
• No Limit Holdem
• Pot Limit Omaha
A cycle of 8-Game Poker starts with the game at the top of the list—Limit 2-7—and moves along the list every 6 hands.
For example: you sit down at a brand new 8-Game Poker table with 5 other players. You play 6 hands of Limit 2-7. Then, the game switches. You play 6 hands of Limit Holdem. Then, the game switches. You play 6 hands of Limit Omaha 8. Then…
Yeah, you get it. The game cycles on ad infinitum until everyone's either broke or sleeping.
Important! Read me! The above applies to cash games. If you're playing a tournament, each game cycles at a rate of one per level.
8-Game Poker Tips
Now you know the rules. All that's left is to not suck. And with basic knowledge of most of the games involved you really shouldn't have too much of a problem trying the game out for real money.
Don't fear not doing well at first – we all have to start somewhere. For just that instance we have compiled a simple listed of 8-Game tips you should utilize when you sit at a table and start playing and rotating between all the different Holdem variants.
1. If you're bad at a particular game, lay off! You don't want to be That Guy. You know, the one who always has to bet; always has to call; always has to be doing something. There's always That Guy at every poker table; and he always goes broke. Don't be him.
2. On the other hand, if you're good at a particular game, dominate it! The whole point of 8-Game Poker is to add a particular dimension of strategy to the game. I call it variant selection. Pick the game you're good at, and play it really well.
3. Don't assume that Mr. Sucks-At-Razz moonlights as Mr. Sucks-At-Omaha. It's perfectly normal—in fact, to be expected in 8 Game Poker—that players aren't equally good at all games. Just because some guy calls your raise in Holdem with 2-7 offsuit doesn't mean he's going to limp in with 2-8-Q rainbow come time for Stud.
Where To Play 8-Game Poker
Congratulations—now you're an 8 Game Poker expert. Well, maybe not. But at least you're competent….right?
In any case, the only way to get better is to PLAY! So why don't you PLAY? If you're ready to crush poker in 8 different ways, find 8-Game Poker exclusively at PokerStars.
Remember, you can play either cash or tournament 8-Game Poker. Or if you're really adventurous, try both at the same time! It's like a poker threesome. Only better, because it's an 8-Game Poker threesome (even the Devil can have his humorous days, haha).
And just remember, 8-Game is only available at PokerStars right now, but we'll keep you informed if it opens up at other online poker sites. You can actually watch a video I've embedded from the legendary Barry Greenstein doing an interview with PokerTube while playing high stakes 8-Game at his home site over at PokerStars.