Best Online Craps Sites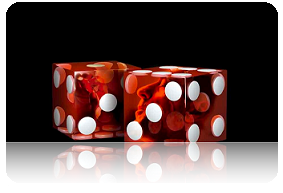 This section will tell you a quick overview on where to play craps online.  The fundamentals of craps date back to the 11th century. The game has undergone some serious development since then and has become a mainstay in the modern live casino.
The advent of online casino game play has conveniently brought craps to millions of players around the world. Players will be able to find a plethora of casino sites offering craps; however, there are three craps that stand out as being the best.
Basic Rules of Craps
A craps table may look like one of the most complicated gambling formats to a novice player. The truth is that craps is a unique game that combines a couple of simple primary bets with several complicated side wagers.
Craps offers the ability to make over 30 different types of bets during a game. However, the fundamentals of craps betting involve only a couple of bet types. The Pass Line bet is the most important one of all. A Pass Line bet is placed before a new shooter begins his roll. The bet will win if the shooter rolls a 7 or 11. Should the shooter roll a 2, 3, or 12, the bet loses. Obviously, this leaves a lot of possible rolls that are unaccounted for. A roll that does not result in any of the aforementioned numbers is known as the point number. For example, if a shooter rolls a 6 on the first roll, 6 becomes the point number. The shooter must then roll the point number again before hitting a 7 in order for a Pass Line bet to win. If a 7 is rolled before the point number is hit again, then the Pass Line bet loses.

Best Online Casinos for Real Money Craps
The opposite of the Pass Line bet is the Don't Pass bet. A Don't Pass bet will win on a 2 or 3 roll but will lose on a 7 or 11 roll. The primary difference occurs during a 12 roll, which is considered a push on a Don't Pass bet.
In addition to the Pass Line and Don't pass bet, players can place other secondary bets such as a Come, Don't Come and a Place bet. The Come bet is just like a Pass Line bet but only comes into play when the point number has been established. A Come bet wins and loses on the same numbers as a Pass Line bet. Similarly, the Don't Come bet is the polar opposite and is only used after the point number has been set. Additionally, a Place bet can be set that establishes a certain number that the bettor believes will come up before a seven is rolled. A bettor can choose from the numbers 4, 5, 6, 8, 9 or 10. A Come, Don't Come and Place bet do not have to placed before the shooter makes his first roll.
Online Craps Tips
Live craps takes into account the throwing technique of the shooters. The technique used can ultimately affect the probability of a certain set of numbers being rolled. Online craps removes this uncertainty by using a random numbers generator. The generator will automatically select a random string of numbers every time the Roll button is clicked. This ensures a random roll every time. Online players must therefore focus on when and what to wager on instead.
It's important for online players to take advantage of this by trying out different betting routines on a site's practice craps mode or by placing small real money bets at a time. Players will quickly find out that the Pass Line and Don't Pass bets are the safest types of wagers to make. The Pass Line offers a low 1.41% house edge, which can be reduced after obtaining experience regarding how to place an Odds Wager in situations where the point number has been established.
Ultimately, all the markers and betting boxes on a conventional craps table are not absolutely important to know about in order to enjoy online craps. Players need only to know the basic set of betting opportunities and don't have to worry about learning the different types of dice throwing techniques. The Internet contains a huge selection of craps casino sites but the three aforementioned sites in this page offer the best craps game play, graphics, table limits and bonuses for every player.