Full Tilt Poker Referral Code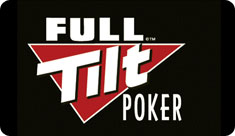 Just like the Godfather, Full Tilt Poker has an offer you can't refuse.  But instead of power and unbridled greed, the #2 rated poker site in the world is offering a 100% match bonus on your first deposit for up to $600 in free money!
Sound too good to be true? Well, it's true. And it's damned good. And unlike the Godfather, this offer won't end up costing you a finger or leave you stuck with a horse head in your bed.
And hey, don't forget to check out our Full Tilt Poker Review for a detailed video analysis too!
YOUR Full Tilt Referral Code is 

G666
Full Tilt Poker Bonus
With all this talk of referral codes and bonus codes, it's easy for players to get confused. The referral code is what you type in when you create your account and the bonus code is what you type in when you make your first deposit.
While creating your account at Full Tilt Poker, you'll eventually see a screen that looks like this:
In the box where it says "Referral Code," type in the code G666.
Full Tilt uses the referral code to track certain statistics like which advertising mediums are sending the most players, and will also allow you to maximize the most out of your initial deposit bonus.
A lot of players skip the referral code and only use the bonus code but it's recommended that you use both codes to ensure you are credited with your deposit bonus. The bonus is only good for your very first deposit so it's worth taking an extra 2 seconds to fill out both the Full Tilt referral code AND the bonus code areas.
Clearing the Full Tilt Poker Bonus
Clearing the Full Tilt bonus is as simple as playing real money poker games just like you always do. When you play in real money ring games and tournaments, you are automatically given Full Tilt Points at a rate of 1 point per $1 paid in rake in cash games and at a rate of 7 points per $1 paid in tournament fees.
Your bonus will be released in 10% or $20 increments (whichever comes first) as you earn Full Tilt Points. So let's say you have a $300 bonus in your pending bonus account. Well every time you earn $20 worth of bonus points, that money moves from your bonus account to your real money account.  This page will be continually updated with 2011 Full Tilt referral code info and any other changes to the bonus structure in general.